Welcome to rattleCAD 4.0
rattleCAD 4.0 supports your bicycle design and build process of bespoked bicycle frames with a fully parametric bicycle model.

In this design process, rattleCAD 4.0 will guide you from bike fitting, defining the basic geometry to refine the bike frame up to a mockup of the finished bike.
Based on these results rattleCAD 4.0 creates workshop drawings including the main miters of round tubes and settings for different frame jigs. rattleCAD 4.0 also provides a set of components to build a bicycle mockup and supports different export formats to print and reuse all drawings generated inside rattleCAD.

rattleCAD 4.0 uses SVG files format to represent single components to mockup your bicycle. This components library can be extended to your own needs.
You can get rattleCAD here: get rattleCAD 4.0
Screenshot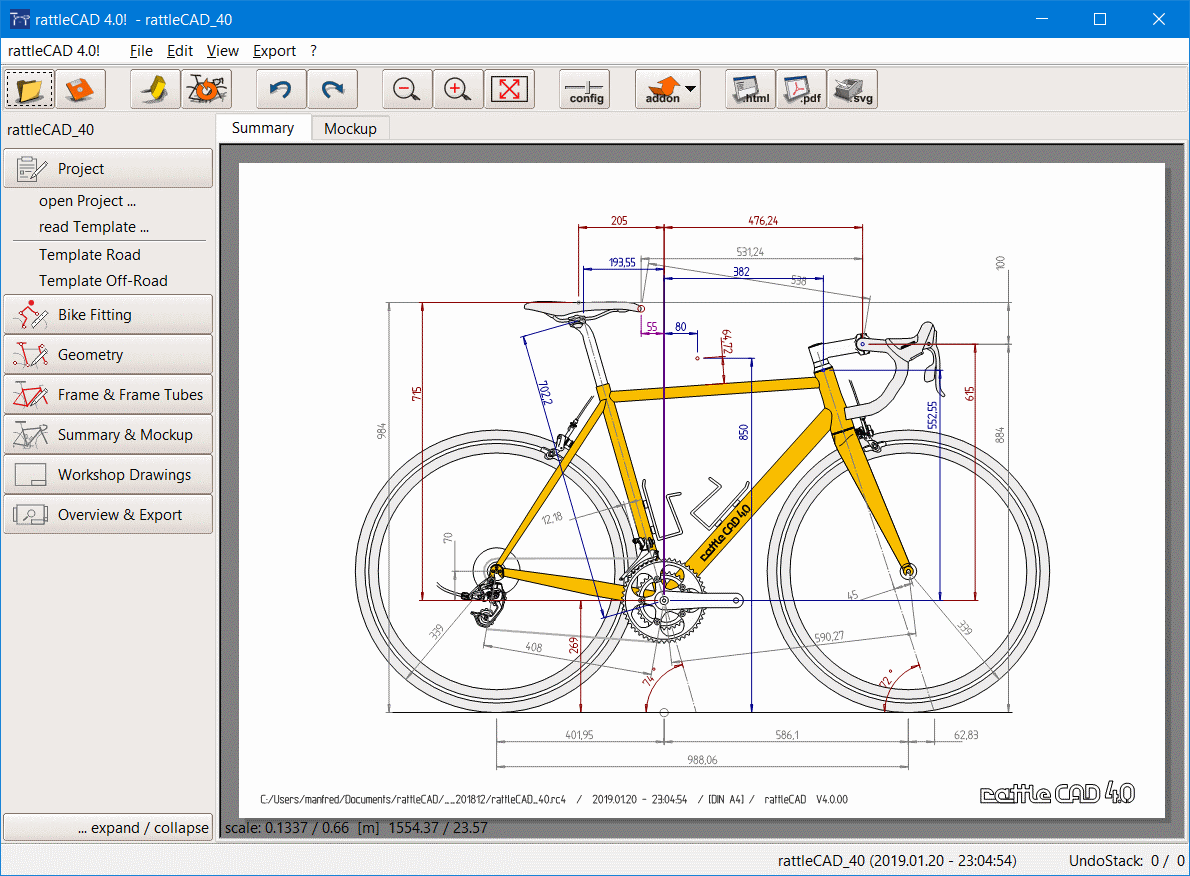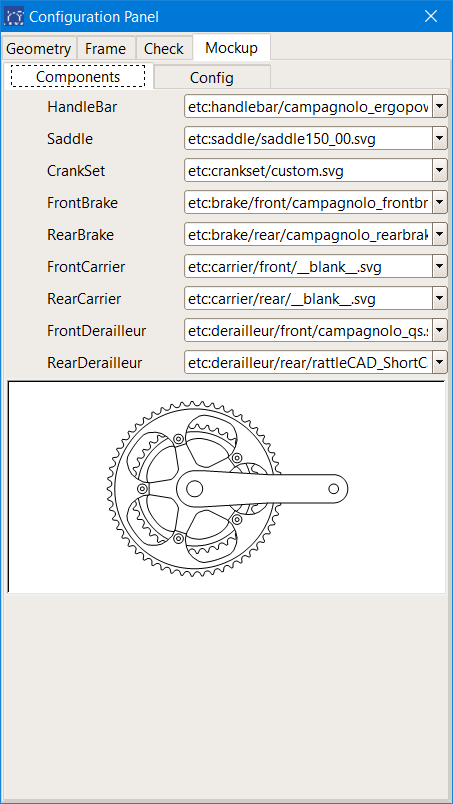 rattleCAD Features
Extended Rendering
Parametric Design
All the graphics are configurable by parameters to configure your Bicycle Frame.
Bike Fitting
Frame Geometry

Handlebar & Saddle
Stack/Reach
Existing Geometry

Frame/Tube Details
Rear Mockup (ChainStay)
Dimensions direct editable
Tube Miter
rattleCAD supports your work in the workshop. Print out the tube miters and cut the tube ends per hand.
Drawing Export Formats
rattleCAD supports different formats to exchange your graphics with other tools (CAD, Desktop Publishing, ...).
.pdf .... Portable Document Format
.html ... Hypertext Markup Language (HTML5)
.svg .... Standard Vector Graphic
Mockup
rattleCAD provides a Components Library build up from SVG-Files to mockup your Bike. Extend your Library with own Components.
Derailleur
Crankset
Handlebar
Saddle
Brake
Fork
BottleCage
Dropout
RearMockup
rattleCAD provides Analysis of RearWheel, Crankset and Chainstay.
custom Chainwheels
custom Crankset arm length
straight/bent Chainstay
FrameJig Support
rattleCAD supports different types of FrameJigs.
User Interface
rattleCAD provides an improved GUI for comfortable usage.
Config Panel with all Parameters at a glance.
Mouse Support
Keyboard Support
direct editable Dimensions
Scale, Move and Scroll